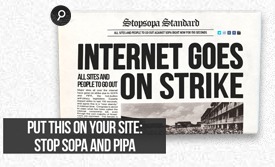 As an Act of Internet Patriotism, i'm doing this post about what is happening right now, since I have some hundreds attention now.
Don't know if you are aware but the internet you are used to visit, is in a crucial danger for change, and for ULTRA worse. The SOPA will limit your use probably entirely of it, you should immediatly know about what is going on through the SOPA STRIKE website
http://www.sopastrike.com
There you can read about what exatcly is going on and learn about the situation, please pick your seat and help us combatting this horrible threat from the goverment.
The internet thanks your help.
Websites on it:
http://www.businessweek.com/news/2012-01-17/google-plans-home-page-protest-against-u-s-piracy-measures.html
http://wordpress.org/news/2012/01/internet-blackout/
http://en.wikipedia.org/wiki/Wikipedia:SOPA_initiative/Action
http://blog.reddit.com/2012/01/stopped-they-must-be-on-this-all.html
http://mozilla.org/